Handwoven Loom Theory: Rigid-Heddle Scarf Collection 2019
Regular price
Sale price
$12.99 USD
Unit price
per
Sale
Sold out
Loom Theory: Rigid-Heddle Scarf Collection 2019 is a special publication of Handwoven magazine featuring a gorgeous collection of seven rigid-heddle scarves woven in unique and luxurious yarns.

Uncover projects for every skill level, from those brand new to the rigid-heddle loom to those who are looking for a challenge, and for every weaver in between. This is the perfect resource for weavers who want to build their skills with fun, beautiful projects.

Utilize a variety of techniques in interesting ways, like in the Stepping Out scarf, designers Susan Bateman and Melissa Parsons' use a slit-weft tapestry technique to create "steps" in their cloth without adding bulk. Or in the Diamonds and Rust scarf, designer Rachel Simmons uses simple pick-up to weave overshot diamonds while Tammy Bast uses two heddles to achieve her beautiful twill pattern.

The luscious yarns in this collection are courtesy of Vvstuga, Treenway Silks, Lunatic Fringe Yarns, Trendsetter Yarns, Jagger Spun, Fairmount Fibers, and Yarn Barn of Kansas. The talented designers include Susan Bateman, Melissa Parsons, Angela K. Schneider, Peg MacMorris, Rachel Simmons, Tammy Bast, Deborah Jarchow, and Judy Pagels.

Scroll down and browse the Loom Theory: Rigid-Heddle Scarf Collection 2019 lookbook for a sneak peek at all seven scarf projects!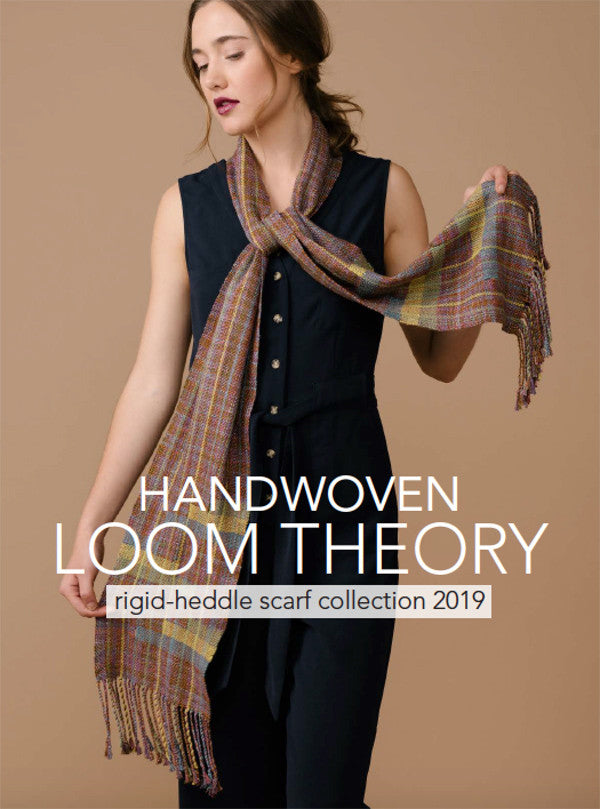 ---